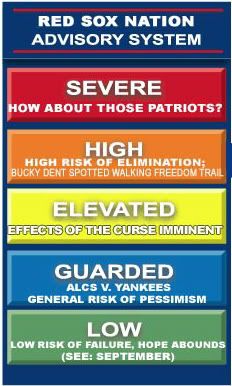 Thanks to
gregtrotter for sharing this cute graphic.

I did check the score on my cell phone a couple of times, and was amused to see it tied at 4 in the 10th inning in the middle of one of the "Farscape" parts.

That David Ortiz sure is earning his salary this week!

Apparently only three teams in professional sports have ever taken a 0-3 series deficit to a game six, none in baseball history has gone from 0-3 to a game seven, and no team in professional sports history has ever won a best-of-seven series after being down 0-3.

The Yankees have to be shaken by these two incredibly tight games in a row, especially after the outlandish high-scoring drubbing they handed the Sox in game three. If games six and seven were in front of the Green Monster, I could see Boston easily maintaining their momentum. As it is, the series returns to the House that Ruth Built for game six tonight. (There'd normally be a travel day, but there was a rain-out this weekend.) In the Bronx, the Yankees may just regain their momentum.

But not if David Ortiz can help it.